Hanno Kübler
Landscape ² – surrealistic collages at first glance, naturalistic at second
.
"Hanno Kübler's photographic objects appear as colorful, square structures when viewed from a distance. Only when approaching the works do they open up new possibilities for the viewer's perception of landscape. What appears to be a graphic design from afar gains more and more of a spatial dimension when viewed up close. Pyramid shapes pile up towards the viewer, the peaks missing and tearing the viewer's gaze into the depths. Through landscape spaces that develop from the central perspective arrangement of the cut and mount lines of the collages, the viewer is drawn into the picture, over grasses, furrows and bales of straw in the foreground, into the landscape space, at the end of which the view reaches to the horizon, lost in infinity.
From darkness into light, as in Caspar David Friedrich's chalk cliffs, similar to the birth experience, the viewer is led into the landscape or, in the broadest sense, into the world. Convincing and fascinating is the simplicity of the artistic principle according to which the landscape sections are assembled and from which the great variety of design and perception possibilities unfolds. The landscapes photographed by Hanno Kübler with their typical shapes and colors determine the structural and atmospheric character of the objects. Although distorted and given a new order, the essence of the real landscape is preserved.
Whoever lets himself experience this view of the world will be exhilarated and irritated at the same time."
– Wilfriede Ehrenheim
.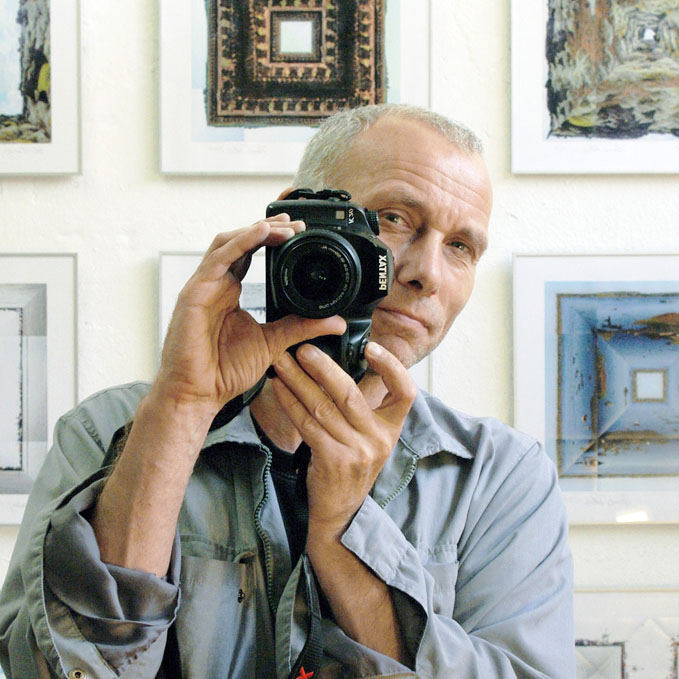 Born 1960 in Celle
1983-92 Study of fine arts at the FH Hannover
.
1992 master student with Prof. Redecker
1994-96 Foundation of the group ART IG and activity as
.
Curator for the Hanover University of Applied Sciences
.
2006 Foundation of the studio community "Ungerstrasse 12"
.
2013 Foundation of the studio community " Lindener Kunstwerke AG"
lives and works as a freelance artist in Hanover, Hamburg and Tuscany
Zinnober – 2014, 2018, 2020
Hannover

Abstrakte Welten – 2017 Galerie VisuleX Hamburg

Weitere  Ausstellungen und Projekte in der Kunsthalle FAUST, in Kapstadt, im Kunstverein Wolfenbüttel, im Kunstverein Gifhorn, in verschiedenen Galerien u.a. in Berlin und in der Hannoverschen Volksbank Linden. 2007 nahm er an der Aktion "Offenes Atelier" in Hannover teil sowie 2008 am "Zinnober" Kunst-Volkslauf. Er erhielt 1991 ein Arbeitsstipendium des Landes Niedersachsen und 1998 ein Stipendium des Künstlerhauses Meinersen.